Kansas City native, Ray Martin, continues to be a faithful servant in Christ using his gifts and experience in media, ministry, music, and technology for increasing faith through prayer and encounters with the Holy Spirit.
In 2001 Ray was recruited to help start up a Lifeteen program at Holy Trinity Catholic Church in Lenexa, KS by developing a praise and worship band to lead mass every Sunday evening in coordination with their youth ministry program. His primary instruments are voice, guitar, and piano with secondary skills at bass guitar, and drums. Whether he's leading a congregation as a traditional cantor, or with his guitar in a praise band, he loves to help lead prayer through music. In 2012, he was invited to design and launch a weekly praise and worship service for Valley View United Methodist Church in Overland Park, KS where he served as Technical Director & Worship Leader through 2016. In August of 2014 Ray was invited to join Church of the Ascension in Overland Park, KS full time to lead music at the 5pm Sunday evening worship as well as coordinate social media and family life ministry.
Ray spent four years at The University of Kansas studying Music Composition and was honored to sing in graduate choirs with talented directors such as Simon Carrington or Dr. Jeffrey Carter.
In addition to interests in writing music and participating as a musician, Ray has years of experience with technology in recording, editing video, sound reinforcement, computer software, web design and SEO, social media, and other nerdy gadgets. He is working on certification in Web Development & Digital Media at Johnson County Community College.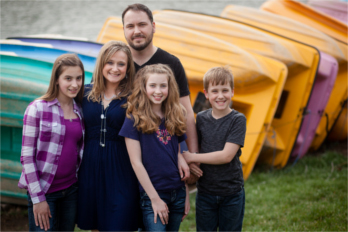 Professionally, Ray spent 10 years as an advertising executive in radio, television, and Internet before moving into the insurance industry until he made the move to full time ministry. He's the father of 6 amazing kids and when he's not playing music or taking care of the kiddos, he enjoys singing with his lovely and talented wife, Brandi.
worshipmusicministry.com is his inspiration for building an online community to share new music and have conversations about how we can better lead worship.